30 Jul

does a veneer need to be removed to fill a cavity?

Veneers removed to fill the cavity.

Porcelain veneers like e-max veneers can help solve cosmetic dental issues. While porcelain veneers are unlikely to decay, the teeth covered by these veneers can still get a cavity.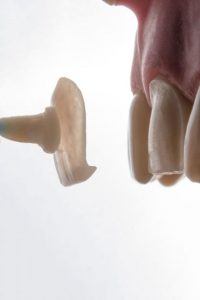 The question of whether a veneer needs to be removed or replaced to fill a cavity depends on the situation. If the cavity is developing on the teeth underneath the veneers, your dentist will examine if removal is necessary. In most cases, composite veneers can be repaired but porcelain veneers need to be replaced. This depends on how severe the cavity is, as well as causing damage to the veneers.
This is why to prevent this situation, you need to strictly implement proper oral hygiene. Plus visit your dentist to get your teeth and veneers checked. With the right care techniques, you will be able to avoid concerns with cavities and prolong the lifespan of veneers.
.If you don't know if your case needs veneers removed to fill the cavity, just contact us. The consultation is Free for you! Just click here: Contact